Evolving with the times: learning and development for a world of flux. This was the focus of a Sunday Times Article on 6 November 2022, ahead of HPC's sponsorship of the IITD Annual Conference.
According to a Fortune/Deloitte survey conducted earlier this year, inflation ranked number one as the most significant concern set to disrupt business strategies in the coming year. Employee skills shortages take second place in the survey, an issue that the Learning and Development (L&D) sector is striving to resolve and will be a prominent focus of the Irish Institute of Training and Development (IITD) annual conference.
The conference, which takes place on November 16th at Croke Park, Dublin, is the IITD's first in-person conference since 2019.
Businesses need to do more than survive; they must thrive. To do this, companies must adapt continuously and often rapidly due to the ever-changing customer needs and demands.
Meeting the demands of rapid change puts immense pressure on organisations and talent. They need to have agile recruitment strategies and must retain, develop, and deploy talent.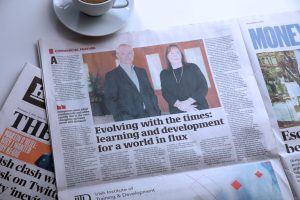 At the heart of L&D is the development of employee skills and identifying which skills will be needed in the future, giving leaders the tools to ensure business success and continuity.
In response to these uncertain times, the IITD's focus this year is on progressing and developing despite the obvious hurdles. Their theme is Reimagining Learning in the New World of Work: CURIOSITY, CHAOS & CONNECTION.
The skills debate will be just one of the issues raised by the conference, which will also examine how L&D professionals can innovate, lead, and transform the work landscape around uncertainty. It will also look at the potential challenges facing the business sector.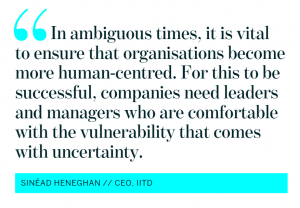 The IITD will host over 300 delegates from all Irish business sectors and include talks by Professor David Collings and Dr John McMackin. There will be two keynote speakers. Marianne Roux will speak on the importance of leading people with purpose, while author Simon Brown will focus on the role of curiosity in navigating some of today's tensions and pressures.
Two panel discussions will feature Brid Horan, chancellor at DCU, independent chair and non-executive Director, and Brian Murphy, senior director, employee skilling, Microsoft.
Later, Brid Horan, Brian Murphy, and Claire Doody, founder and principal consultant of Work in Motion, will further develop the topics raised in the programme. Claire Doody will also discuss the significant challenges and opportunities facing L&D, especially in a world changing at an accelerated pace. Lily Collison will speak about the book she co-authored with Kara Buckley, Pure Grit, which focuses on the potential within people who live with a disability.
People add value to business through skills, decisions, relationships, and behaviour. This value can be hugely positive if the correct approach is taken. L&D needs to be able to capture, measure and communicate the importance of value in a way that is easily understood and absorbed. Done successfully, it will enable organisations to share good, bad, and indifferent practices which will help companies progress.
Leadership, innovation, talent, learning, and management quality are vital, but these human elements of business are difficult to measure. These intangible qualities are more than essential, they are the essence of any organisation, yet people have yet to be able to quantify the value of human input.
Stuart Woollard, the co-founder of The Maturity Institute and conference panellist, says that trying to place a financial worth on humans is problematic, but how, then, do you put a value on it?

Sinéad Heneghan, Chief Executive of the IITD, says that in ambiguous times, it is vital to ensure that organisations become more human-centred. For this to be successful, companies need leaders and managers who are comfortable with the vulnerability that comes with uncertainty. Achieving this, she says, is not straightforward but leaders can help create environments to ease people's apprehension.
"People are looking for certainty around working models, but we are in a state of flux, and leaders cannot give that clarity, however, we can still support people. Organisations are becoming more agile in their thinking. While this doesn't give certainty, it does show a commitment to people's values and an awareness of the factors which influence decision making. Greater understanding by companies mitigates uncertainty to a certain extent."
Kevin Hannigan, head of talent consulting at HPC, this year's IITD conference sponsor, says that as a profession, the L&D community has taken advantage of the hurdles in the last couple of years by going online. However, he says that being together in the same room creates a level of connection which fosters conversations and provides a space for people to share information and ideas.
"The conference allows us to come together and take stock. There is so much happening; we have new buzzwords, new theories, changing technologies, and new thought processes. We are the people in the organisation who need to have the ability to be able to stop and pause and ask the right questions. As professionals, we equally need to take stock of where we are in understanding how the future is unfolding for us."
"We are the ones who will preach continuous development, but equally, we need to ensure that we are developing. Sometimes that is just around coming together, stopping, pausing, and understanding what is happening. In a chaotic world dominated by individuals loudly claiming to have answers and telling us what the future will bring, perhaps we need to celebrate the people asking questions and those intent on understanding the world a little more."
"There is no single answer or solution to problems, things are changing so fast, and we must constantly readjust and re-evaluate. We cannot wait until some point in the future to say we will have the opportunity to look back. As a community, we need to be continually readjusting to see how we are approaching problems, how we are approaching challenges, adapt as we go along and be able to learn from each other."
HPC & IITD Contributors
Sinéad Heneghan – IITD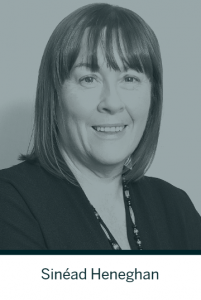 As CEO of the IITD, Sinéad leads the Institute's strategic development work and oversees research and engagement with members. This informs the ongoing development of the member offer and continuous professional development opportunities for practitioners.
She has vast experience with Individuals, Corporates, Further and Higher Education Providers and State Agencies and has represented the industry in an influencing and Advocacy role for many years.
She holds an MBA from DCU, MSc in Leadership & Change Management, a BA in Local and Community Development from Maynooth University and a Certificate in Training & Development.
Connect with Sinead on LinkedIn >>>
Connect with IITD on LinkedIn >>>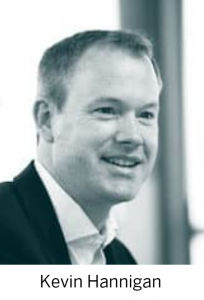 Kevin Hannigan – HPC
Kevin Hannigan leads the Learning and Talent Consulting offering and is also a Client Director at HPC. He works with clients to develop, deliver and evaluate bespoke solutions that drive performance across their business.
He is a highly skilled consultant and facilitator with a wealth of experience in designing the systems and processes that support effective learning, measurement and talent development.
Before joining HPC in 2013, Kevin was head of learning and development for Matheson, Ireland's largest law firm and for C&C Ireland.
Connect with Kevin on LinkedIn >>>