Part One: The myths, corporate commitment and government perspectives
HPC's Head of Research, Justin Kinnear explores the myths, corporate commitment and government perspectives surrounding the future of work.
Nobody knows exactly when the pandemic might end, nor can say with certainty what a typical working week will look like when this is all over. Will our organisation's culture remain intact, or will we need to rebuild it? Are our people still loyal, engaged, and motivated? Will the demands from clients be the same as before or will we need to remodel our offerings, structures, and processes?
There are so many questions and very few answers, but it's our duty as leaders to prepare, to plan, and to paint a picture of the future that will give our people hope and direction. So, what can we deduce about the future of work post COVID-19?
Shattering myths about remote working
The notion that remote working can't be trusted, that people are "shirking from home", and that things work only when I can watch over my people, has been well and truly shredded. People are working from their homes, in often challenging conditions, and getting things done. Many have managed to keep going with their work despite no assistance from their manager or employer. Has this produced a productivity surge? Anecdotally, workers report longer working days, improved balance between work and personal time, and feeling more productive. A significant number of economic reports suggest that total factor productivity, however, has fallen. This is particularly true for some countries and some industry sectors. The verdict on productivity is a mixed picture, but what is clear is that working from home is effective and will be part of the world of work from this point on.
However, remote working does not suit everyone. Remote working managed badly may reduce fairness. A mix of workers at home and others in the office creates power and access dynamics that favour those that are in closest physical proximity to the boss. Four people sitting in a meeting room with the boss, joined by four people dialling in from home, is not an equal dynamic. Restoring and managing fairness when we have unequal proximity will be an early and immediate challenge we will need to address.
How organisations see the future of work
Right now, the key question many organisations are focused on is how many days a person should come into the office each week. This triggers subsequent questions about physical space, car parking, food service, cleaning schedules, layout of space and the future of open plan, and many other practical considerations. Leaders are pondering what share of people should be in the office on a given day, whether we come in for routine work such as email and procedural tasks, or whether we should only come into the office when we need to meet as a team. Nobody has worked all this out yet because it's not possible to know all the factors involved. Any decisions must take into account the risks of favouritism, access bias, and everything else that flows from merely being co-located with the boss and other key decision-makers. As the old saying goes, "out of sight, out of mind" and so it may feel for those encouraged to stay put at home.
Where does this leave professional development and learning?
Most organisations have shifted to virtual learning since early 2020. While useful to maintain skill development and help staff to keep connected with one another, it is limited by its nature. You can't simply switch a two-day management development event into a two-day Zoom session. Most things that shifted online have been shortened, narrowed in focus, and designed to do a best-effort job under the circumstances. Virtual events are ideal for some topics, needs and groups; face-to-face learning events are much more effective for other topics, needs and groups. Face-to-face events, whether for learning and development, for business meetings, or for group problem solving will be gradually reintroduced. The positive reaction to human reconnection could trigger a reflex to bring everyone back in the office, so leaders must anticipate this emotional response and be ready to restate their commitment to decisions on who needs to be in the office every day and who can just as effectively work from home.
Corporate commitment to new ways of working
While many companies are still exploring how they intend to implement a form of hybrid working, others are pressing ahead with a commitment to a new way of working. ESB, Ireland's largest Electricity provider, has embraced "smart working" where flexibility and autonomy are encouraged in order to find the best arrangement that suits the customer, the business and the employee. Smart working encourages employees to think 'virtual first' for meetings thereby saving time on commuting and reducing carbon emissions. Employees are also encouraged to balance the number of online meetings with planned time together.
Creating a high-performance culture underpinned by a positive employee experience is all part of ESB's 'Brighter Future' strategy to lead Ireland's transition to a secure, affordable, low-carbon future powered by clean electricity.
"We know from the research we have carried out that most of our employees don't want to return to the office full time after the pandemic, yet there are others who are really struggling at home. We are working to accommodate both groups so that everyone feels a sense of belonging, and everyone is empowered and motivated to deliver for our customers," says Sarah Claxton, Head of Organisational Development at ESB
"For the most part, people in the future will come to the office to collaborate, to build social networks and engage in learning and development. They won't commute for the sake of sitting in front of a screen or having a meeting with their team," she adds.
Similar approaches have been signalled by Facebook, Amazon, Google, and Spotify as a new way of working post-COVID.
Government perspectives on work after COVID-19
Most governments see the changes in working practices during 2020 as being generally positive. Reduced pollution, reduced traffic, more time for family and leisure, and better individual health and wellbeing have all accrued as fewer of us commute to work. Naturally, governments would like to see some level of working at home remain once the pandemic has ended.
The Irish Government has set out a plan for the future state of work in its National Remote Work Strategy. In its introduction, Leo Varadkar TD, Tánaiste and Minister for Enterprise, Trade and Employment, highlights that, "when the pandemic is over…things will never be the same again." He points out what, "while some people will work full-time from the office or from home, most of us will be blended workers, working sometimes from the office and other times from home, a hub or on the go."
However, there is a recognition that boundaries need to exist between home and work life and that a code of practice will need developed for the 'right to disconnect.'
He adds, "we want to retain the creativity and innovation that flourishes from people meeting each other and do not want people to become isolated." This is equally important when it comes to structuring the balance of learning and development initiatives.
Who is responsible for the shift to hybrid working?
It's one thing to have a policy about how we will work after the pandemic, it's another thing altogether to make it a reality. In Part Two, we will explore how hybrid work can become a reality, and most importantly, who will be ultimately responsible for making it happen.
Read more of our 'Anticipating the Future of Work post Covid-19' series here: Part Two: Who is responsible for the shift to hybrid working?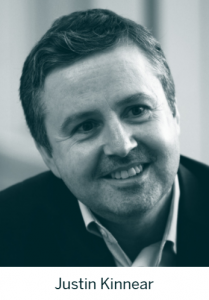 Justin Kinnear is Head of Research at HPC. His passion for people development and his ability to inspire makes him a key member of HPC's facilitation and coaching teams.
As well as his extensive research and facilitation experience, he was formerly Head of L&D at IBM and Britvic.
His work with HPC focuses on the development of a high performance culture for our clients with a particular emphasis on accountability and feedback.