Perspective and insights from the annual Learning Technologies Conference and Exhibition event at ExCeL London.
Learning Technologies is Europe's leading showcase of organisational learning and the technology used to support learning at work. Each year, it attracts over 9000 attendees from 50 different countries, and with 200 free seminars and exhibitors, it continues to grow year on year. It's a key event in the calendar for learning professionals worldwide and is one of the best ways to keep up with the evolving trends in learning and development.
HPC Client Director, Fiona Claridge reflects on her key takeaways from the event.
The first thing to note is that despite ExCeL London being such a vast space, one of the first things you notice when stepping into the exhibition hall is that it's buzzing with activity. As an event that aims to create exciting and engaging experiences, the sheer wealth of free seminars on offer creates an environment where people actively want to learn.
The 2022 Linkedin Workplace Learning Report highlighted the fact that busy L&D professionals spend less time learning than their HR colleagues, so this was the perfect opportunity to focus on personal development.
When considering new technology, put people and impact first
For those looking to source learning technologies for their organisation, it's easy to see how the exhibition hall can become overwhelming – everywhere you turn, there are stands pitching a wealth of features including content creation, social learning, data analytics, talent management and, more notably this year, AI.

My advice to anyone heading to the exhibition next year in the hope of sourcing a learning platform is to go well-prepared. Resist the temptation to become swayed by buzzwords – a 'learning experience platform' or 'digital learning ecosystem' might sound impressive, but without consulting with your stakeholders and gaining a full understanding of the organisational goals you're supporting, not even the most sophisticated technology can outweigh the importance of putting people and impact first.
Ask yourself:
"What challenges can I expect the learning platform to help solve?"
"What are the behaviours that I am trying to drive in my organisation?"
"What organisational goals am I supporting with L&D?"
"What are the challenges faced by my stakeholders?"
"How can learning technology support a modern, blended approach to L&D?"
Ask yourself honestly what's going to change in the business after you bring in the technology and roll out the training program. What will change in terms of how you embed the learning? How will you hold people accountable?
Knowing what questions to ask before engaging with vendors will help you narrow your choices to those that align with your objectives around people's performance. The key is to remember that learning technology should be seen as a tool to help you achieve success and not as a silver bullet to solve all of your L&D challenges for you.
Learning data is more powerful when combined with storytelling
One talk that particularly stood out for me combined a powerful case study with supporting data that helped support a compelling narrative of success. While your stakeholders will always want to see solid data that proves impact, just presenting hard data without context can make it hard for them to understand what's happened.
This is why the data storytelling approach was so effective.
The session used a good structure with supporting data at each step:
What problems was the organisation facing before the training program?
What was needed to overcome this problem?
How was the solution implemented?
What was the impact? Are there any key results that stand out that support how positive change has happened?
This is a good template to follow when presenting data to stakeholders to gain L&D buy-in. It's important to understand how you will quantify what success means and use the technology to collect the right data to measure it.
For example, what does the data tell you about learner engagement, impact and learning transfer? Find the story about what happened next and ask learners to share their insights of what it means for them. Get better at collaborating across the organisation to find out what you achieved as a collective. Identify what data you need, how you will collect it and how you can wrap the narrative around it.
A blended learning approach still needs safe space for conversation
In the new, hybrid world of work, it was reassuring to see vendors demonstrating their understanding of how learning should create connection.
Many of them had built-in features enabling learners to share learning material, engage in discussions and deliver feedback virtually. In a blended solution, this is a valuable way of ensuring that connections are not lost – the challenge of self-directed learning is isolation, so having this technology in place ensures a consistent sense of community. Some vendors also offered coaching and line manager support, so feedback could be obtained from multiple sources.
However, we can't overlook the importance of creating spaces for safe and trusted conversations when using a blended approach. We still need people to feel comfortable answering key questions about their development:
"How does the learning impact me?"
"How will I use and apply this?"
"In what ways am I accountable for my own learning?"
These opportunities for people to self-reflect and understand the role of learning offer a sense of depth rather than breadth, and are a key part of fostering a strong learning culture.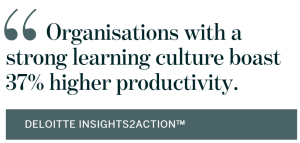 When we consider that organisations with a strong learning culture boast 37% higher productivity, we can see the impact a strong and connected learning culture has on driving real organisational change. Culture relies on genuine connection.
In conclusion
Would I recommend attending the Learning Technologies event to other learning and people development professionals? Absolutely.
It's an ideal opportunity to keep up with the latest trends in L&D, network with other learning professionals and make time for the personal development we often lack time for.
Conversations around AI and skills-based talent management were very much at the centre of the event this year in alignment with Donald H Taylor's annual Global Sentiment Survey. While no one has the answers with AI yet, it's clear that developments are moving fast and it will be interesting to see where we'll be next year.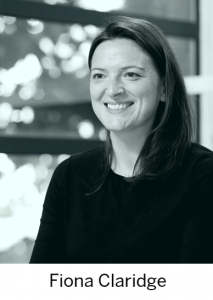 Fiona Claridge's role as Client Director within HPC is to partner with organisations to shape bespoke solutions that achieve impactful results. 
She works in partnership with clients across a diverse range of industry sectors and offers a deep understanding of how ever-changing business needs impact how HPC's work adds value at a strategic level.
Before joining HPC, Fiona gained consulting experience across many aspects of Talent Development Assessment in global Tech, Pharma and Professional Services organisations including Manpower and Aon as well as niche start-ups such as Own The Room and cut-e.
fiona.claridge@wearehpc.com
Connect with Fiona on LinkedIn >>>
Connect with HPC on LinkedIn >>>