A study conducted at Harvard Business School found that a daily 15-minute habit can increase your productivity and effectiveness. The daily habit is as simple as they come – making time every day for reflection will help boost your leadership.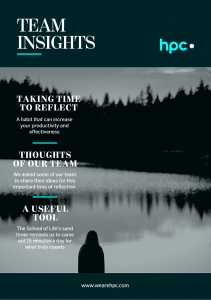 Reflection can help you make sense of your day, help you make decisions, set a course of action, break out of habitual ways of thinking and restore focus on new ideas and opportunities. According to university research, the best learning happens in moments of quiet reflection.
We asked our team about some of their positive learnings from 2020 and a resounding theme came through – time to reflect. Whether in the midst of a pandemic or not, reflection should be a constant habit.
In this article, our team share their collective thoughts on making the most of this precious time – professionally and personally.
Click on the image to download and read our team's collective thoughts in full.