Ahead of HPC's sponsorship of the L&DI's National Learning & Development Conference, the Sunday Times explores the theme of 'reLearning for reInvention' that will be at the heart of this key event.
Recognised by Thinkers50 this week as the #1 management and business thinker in the world, Novartis Professor of Leadership & Management at Harvard Business School, Amy C. Edmondson will deliver the keynote presentation at this year's National Learning & Development Conference, hosted by The Learning & Development Institute (L&DI), at Croke Park on December 6th.
Titled reLearning for reInvention, the theme of the Conference will focus on the current landscape for L&D professionals and their organisations focussing on how to navigate a way forward to rethink ways of working.
Amy will explore the theme of her new book 'Right kind of Wrong: The Science of Failing Well', shortlisted for the Financial Times and Schroders Business Book of the Year, and how we and our organisations can embrace our human fallibility, learn exactly when failure is our friend, and prevent most of it when it is not. This is the key to pursuing smart risks and preventing avoidable harm.  This concept of failing well is essential for leaders leading in an uncertain world and building a culture of psychological safety as it matters more than ever in today's organisations.  This is a culture where problem sharing is encouraged, and where individuals feel safe to bring problems forward, even if they don't have solutions.
With so much riding on innovation, creativity, and engagement, it is essential to attract, cultivate and retain talented employees – but even more important to ensure that they can speak up to contribute their ideas and expertise. Amy will focus on the role of senior executives in building psychological safety to ensure those high-quality conversations take place.
In a world characterised by constant change and uncertainty, innovation, creativity, and employee engagement are the lifeblood of thriving organisations.
For organisations to thrive in this uncertain world, leaders must be adaptable, willing to step out of their comfort zones, and capable of adopting the most effective leadership style a given situation.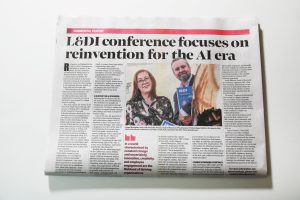 A BLUEPRINT FOR AI INTEGRATION
Opening the Conference will be An Post CEO, David McRedmond, who will share his insights on bringing an organisation through reinvention, creating a climate and culture to support people through that change and what it means for leaders today.
Later in the day, the potential of AI within organisational learning and performance support will be dissected in detail by futurist and author, David Kerrigan, who will give a pragmatic overview of the way AI is transforming how people learn. David will paint a picture of the current landscape with a measured forecast of the future. There are tangible impacts and realistic prospects of integrating AI into L&D without losing sight of AI's role as a tool, not a destination, and David will provide that blueprint.
Feeding into the relearning angle of the Conference, Sacha Dekker, a Leader and Talent Development expert, who has overcome sudden physical adversity, will speak with sincerity and authority about relearning when life doesn't give you a choice. Her experiences will feed into people's personal perspectives on growth and evolution of their career – a theme which will be further explored by a panel discussion facilitated by HPC's Head of Research, Justin Kinnear.
Sinéad Heneghan, CEO at L&DI, stresses the importance of the conference to set L&D's agenda in Ireland: "We're delighted to welcome Amy C. Edmondson for our National Conference on December 6th. A thought leader and speaker of the highest calibre, Amy will help L&D professionals in Ireland unearth the connection between creating a safe environment and unlocking the potential for high-performance teams.
"Amy will bring that thinking to a level where we can discover the actionable behaviours that leaders can adopt to cultivate psychological safety within their organisations. She will explain the difference between intelligent, complex, and basic failures, and what leaders must do to ensure that organisations have more of the first type while preventing the other two types."
A UNIQUE NETWORKING OPPORTUNITY
This Conference offers L&D and HR professionals unique networking opportunities, fostering a dynamic environment for the free exchange of ideas and the chance to connect with like-minded colleagues. Additionally, the event includes an exhibition area featuring more than 15 organisations supporting the L&D profession, providing attendees with valuable opportunities to enhance their learning experience.
Justin Kinnear, Head of Research at Conference sponsors HPC, adds that "Professor Edmondson's work continues to powerfully shape the high performing cultures of great teams and great organisations all over the world.
He notes: "Professor Edmondson's latest work is a timely reminder that our future success depends on us embracing the learning from failure, learning from experiments, and the learning that accrues when we develop a greater understanding of the contexts in which our organisations exist."
Justin will be chairing a panel discussion that explores how L&D leaders have relearned and reinvented themselves over the course of their careers and what skills they have had to build and rely on.
Justin believes: "The L&DI Conference provides a unique opportunity to embrace Professor Edmondson's work by coming together and share experiences and approaches, to discuss what worked and what did not, and to use these individual high-value learning exchanges to enhance what we do inside our respective organisations. By truthfully exploring, sharing, and understanding our successes and failures, we can position ourselves strongly for individual, team, and organisational success in the future."
L&DI & HPC Contributors
Sinéad Heneghan – L&DI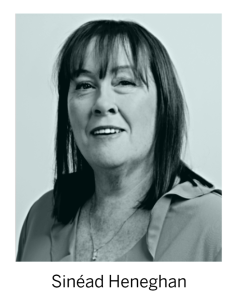 As CEO of the L&DI, Sinéad leads the Institute's strategic development work and oversees research and engagement with members. This informs the ongoing development of the member offer and continuous professional development opportunities for practitioners.
She has vast experience with Individuals, Corporates, Further and Higher Education Providers and State Agencies and has represented the industry in an influencing and Advocacy role for many years.
She holds an MBA from DCU, MSc in Leadership & Change Management, a BA in Local and Community Development from Maynooth University and a Certificate in Training & Development.
Connect with Sinead on LinkedIn >>>
Connect with L&DI on LinkedIn >>>
Justin Kinnear – HPC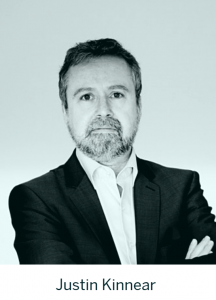 Justin is Head of Research at HPC and is at the forefront of creating blended content that is relevant, impactful and in line with the current needs of individuals and teams. Justin undertakes external research and analysis for leading L&D bodies and works in collaboration with our clients to evaluate the impact of HPC's solutions within their organisations.
His passion for people development and his ability to inspire makes him a key member of HPC's facilitation and coaching teams. His work with HPC focuses on the development of a high performance culture for our clients with a particular emphasis on accountability and feedback.
As well as his extensive research and facilitation experience, he was formerly Head of L&D at IBM and Britvic.
Connect with Justin on LinkedIn >>>
Connect with HPC on LinkedIn >>>